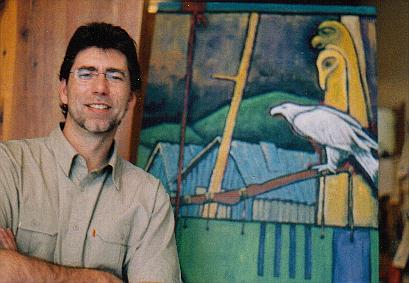 Website and Images Copyright Notice:

Copyright 2000-2011  Don Elzer - All rights reserved

1981 Highway 6 East, Lumby, British Columbia, Canada V0E 2G1

Don Elzer is a biosemiotician, essayist, philosopher, artist, innovator and novelist from British Columbia. He is a pragmatist who has spent much of his life developing concepts that link deep ecology to mainstream culture and then putting them into practice. He is best known for his investigative research, his early promotion of permaculture and his ongoing work that links rural communities and First Nations to a local eco-economy. He is also known as one of world's first modern wildcrafters, creating a style of visual art made of natural material. Today, much of his time is spent at his wild tea plantation called the Wildcraft Forest where he can be found wildcrafting tea blends and potions.

Don Elzer, is a research analyst specializing in community, tourism and creative sector development as well as the new and emerging carbon offset industry. He is the founder of the Watershed Intelligence Network. Today, WIN represents a clearinghouse of initiatives and multi-media services which promote economic and environmental sustainability and stewardship principles.

With over 20 years of on-the-ground experience working with small and medium sized enterprises and communities he has acquired key knowledge about current development issues impacting rural British Columbia. As a consultant with the Canadian Tourism Commission he developed one of the first eco-tourism strategies in British Columbia, as well as the first creative sector development strategy in the Okanagan Valley. His role has been assessing, problem solving and identifying emerging opportunities and leadership methods within such scenarios as industry closures, First Nations self government, eroding community infrastructure and impacts due to climate change so that a more creative and diverse economy can be realized and sustained.
Learn More
As an Author, Publisher and Producer

Don Elzer is currently the designer and editor of six online publishing sites as well as a vast number of print publications specializing in travel, business, ecology and culture.

As a Guest Speaker and Workshop Facilitator

Don Elzer's insights on our changing planet, current and future consumer trends, ecology and changes in cultural attitudes have made him a popular choice as a guest speaker and research consultant for businesses, communities and educational institutions.

This page is presently being updated, please check back later.

To visit Don Elzer's studio visit the
Wildcraft Forest
or contact him at
1981 Highway 6 East, Lumby, British Columbia Canada  V0E 2G1
Phone: the Discovery Centre at:

250-547-9812